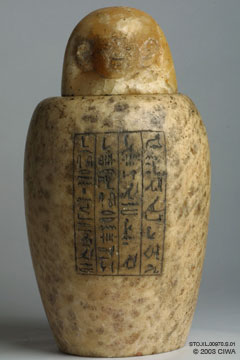 | | | |
| --- | --- | --- |
| Period: | | Egypt, New Kingdom, Dynasty 19 |
| Dating: | | 1298 BC–1069 BC |
| Origin: | | Egypt, Lower Egypt |
| Material: | | Stone (undetermined) |
| Physical: | | 29.3cm. (11.4 in.) - 6000 g. (211.8 oz.) |
| Catalog: | | STO.XL.00970.S |
Links to other views:
⇒ Larger View
⇒ Cap (detail)
⇒ Inside (detail)
if scripting is off, click the ⇒ instead.



• • •



Links to others from Dynasty 19
Bronze of King Sethi I as Nefertem, Dyn. 19
Foundation marker from Seti I, Dyn.19
Horus-the-Child, Dyn.19, 1300-1200 BC
Lapis seal of King Ramesses II, Dyn.19
Ptah-Tatenen pendant, Dyn. 19-20
Queen Isitnefret as Isis nursing, Dyn. 19
Relief of king offering small jars, Dyn. 19
Relief, procession of priests, Dyn. 19
Relief, reign of Ramesses II, Dyn.19
Ritual pendant for the Priest of Ptah
Seal of Queen Maa-writ-nefrw-ra, Dyn.19
Shawabti from Deir el-Medineh, Dyn. 19
Shawabti of an unidentified king, Dyn. 19
Shawabti of Pa-iri, fan-bearer, Dyn. 19
Shawabti of the Vizier Paser, Dyn. 19
Unfinished stone statue, Dyn. 19
Wood shawabti of King Seti I, Dyn. 19
Wood shawabti of King Seti I, Dyn. 19
Wood shawabti of King Seti I, Dyn. 19
This finely carved alabaster jar is one of the four canopic jars of a New Kingdom dignitary named Osorkon (Wsrkn). Following tradition, the stopper is in the image of Imsety (Imst), son of Horus, indicating that the jar contains the liver of the deceased. The jar has not been violated and still contains the organ steeped in bitumen, probably along with protective amulets and jewelry. Dynasty 19 (1298-1069 BC).

The hieroglyphs read: "Words by Isis, I am in control - Osiris is the protection of the face of Imsety who is here - I am the protection of Osiris Osorkon the praised protection - Osiris Osorkon, near me, the justified, Imsety" (dd mdw n ast sw hrp i stp nfrt - wsir sa hr imst nty im - i sa wsir wsrkn sa hk sy - wsir wsrkn pn mac hrw imst).

Conservation note: improper storage in the 1980's caused some of the bitumen to flow while the jar was stored horizontally, exposing some liver tissue to the air.



Bibliography (for this item)
Khalil, Hassan M.
1976 Preliminary Studies on the Sanusret Collection. Manuscript, Musée l'Egypte et le Monde Antique, Monaco-Ville, Monaco. ([3]293-296)

Shaw, Ian, and Paul Nicholson
1995 The Dictionary of Ancient Egypt. British Museum Press, London, United Kingdom. (59-60)